Cleveland, Ohio — Dec. 16, 2005 — A school without bricks and mortar promises to transform Ohio's education and workforce.
The Ralph Regula School of Computational Science was dedicated today at the Ohio Aerospace Institute (OAI). Dr. John H. Marburger III, science advisor to the president and director of the Office of Science and Technology Policy, provided keynote remarks on the critical role computational science plays in scientific leadership, economic competitiveness and national security at the event that honored Rep. Ralph Regula.
"Ohio has always been a good place to innovate," said Ralph Regula (R-Navarre) , the longtime Ohio Congressman and virtual school's namesake. "This school is an opportunity to exemplify Ohio's spirit of innovation and take a new approach to science education."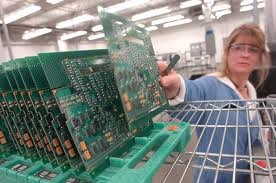 The statewide virtual school — a collaborative creation of the Ohio Supercomputer Center (OSC), Ohio Board of Regents, and Ohio Learning Network (OLN) with participating colleges and universities — will focus on the exciting new area of computational science.
Computational science is the use of computer modeling and simulation to solve complex business, technical and academic research problems. Businesses recognize computational science as an essential tool for innovation and use it to develop new products. Researchers do the same to expand the frontiers of knowledge.
"This initiative will result in a competitive advantage for Ohio in providing the next generation of highly trained application developers and computational researchers through a broad consortium of Ohio colleges and universities," said Roderick G. W. Chu, chancellor of the Ohio Board of Regents. "We are focusing on teaching the full range of students from high school to undergraduate, to graduate students studying at two- and four-year public and private institutions."
The Regula School builds on the tremendous assets Ohio already possesses — the OSCnet and OSC's Blue Collar Computing™ initiative — to expand computational science capabilities to small- and medium-sized companies in Ohio. Through this enhanced access, computational science education has the potential to transform Ohio's economy as business and industry learn to employ powerful computational tools.
"Computational science has shortened the time to discovery," said Stan Ahalt, OSC executive director. " Ohio's businesses and scientists need this specialized training to be early adopters of high-tech modeling and simulation for applications ranging from aerodynamics and defense to pharmaceuticals and automobiles."
The use and application of computational science has become essential to success in the increasingly competitive environment of industry and scientific research. For example, the use of "virtual prototypes" — computer models used to simulate and test new products prior to manufacturing — sharply reduces or even eliminates the slow and expensive process of building physical prototypes.
The Regula School will help ensure that Ohio has the skilled people needed to support this new approach to innovation. The school will rely on participating colleges and universities to confer degrees and certificates and offer their expertise:
to develop a multi-institutional, interdisciplinary undergraduate minor in computational science;
to cultivate and maintain curricula standards for computational science degree programs and certificates;
to provide assistance (with OLN's help ) in using technology to deliver courses and programs in the most convenient and effective way for students;
to coordinate with industry to ensure that insights gained from the workplace enter the curriculum as quickly as possible; and
to support innovative ideas for strengthening program effectiveness, such as a Computational Co-Op program that would make it easier for students to work directly with business and industry while actively pursuing a degree.
The Regula School will also act as a coordinating entity for developing a K-12 component of computational science education with Project Lead the Way. This national project forms partnerships among public schools, higher education institutions and the private sector to increase the quantity and quality of engineers and engineering technologists graduating from Ohio's education system.